About
As a busy mom who wished I could keep my kids safe from everything, I designed revolutionary apparel to keep them safe while playing in the sun. My family has always spent weekends and vacations on the lakes in Muskoka and Georgian Bay.
I grew up on the lake and wanted my kids to have the same experiences, enjoying all of the fun at the cottage and reaping the health benefits of living life outdoors.
But as a mom, I also know how strong the UV rays are, making the need to protect babies' and kids' skin extremely important. When I became a mom, I was constantly concerned about what to use for sunscreen, researching ingredients, and then figuring out when sunscreen was applied last and if their shoulders were getting a little red... Plus, I knew that it is not recommended to put sunscreen on babies under six months.
This list of worries as a mom when taking kids outside is endless!
So we made 'towel tents' (literally tents out of towels) to protect the babies until they moved or the sun moved. I sure don't miss those days! When we did try to put sun shirts or 'rash guards' on my little one, it was a fight to get anything over their head (even before going into the water) and it always seems the neck hole shrunk when it became wet (either that, or my kids have big heads). I tried other sunsuits, but the material rode up the legs, once again exposing more skin. And don't even get me started on diaper changes in a wet suit!
"Rock, Paper, Scissors!" was the game my husband and I would play for who got to fight with a wet baby in a dirty diaper.
I found myself wishing there was more protection for girls so my daughter's legs were protected when on the water all day. Then I found myself wishing she could get a shirt on and off herself. Then everyone would be happier. Especially the very independent toddler who would rather do things themselves anyway.
I wondered, "Could I solve my issues with sun protective clothing that fits them better and also makes my life easier? Now that would be great!" I knew if I was going to create a product for my kids that it would need to align with my own personal values: made in Canada, exceptional quality, sustainably made, environmentally conscious, and size-inclusive patterns.
And so Sun Safe On The Lake was born! I designed my own sun-protective clothing samples, which I then tested on my own kids for an entire summer. I wanted to make sure they were kid and baby approved, too! These suits went in the lake, pool, tubing, water skiing, boating, to the beach, and so many other adventures! My favorite feedback was my daughter's for the shorts, "I just never want to take them off!" These swim and sun suits became the go-to for both my kids and me because of how comfortable they were, but most importantly so I didn't have to worry about covering them in sunscreen.
How do I know your kid will happily wear Sun Safe? My kids live in them and love them! And check out some of the other reviews!
Since beginning this journey of creating sun-safe clothing for little ones, I have designed and created a grown-up's version of our best-selling Swim & Sun Shirt - The Lake Effect Adult Shirt. This is the ultimate sun protection apparel for a canoe trip in Northern Ontario, a day golfing on the course, or even just sitting poolside supervising kids doing cannonballs (or bellyflops).
Now the whole family can look stylish and keep their skin safe from the sun!
My hope is that Sun Safe On The Lake can provide you with peace of mind for sun protection and convenience to enjoy your warm weather adventures with your family on the lake, too. Thank you for joining us on this journey.
Cheers, 
Jen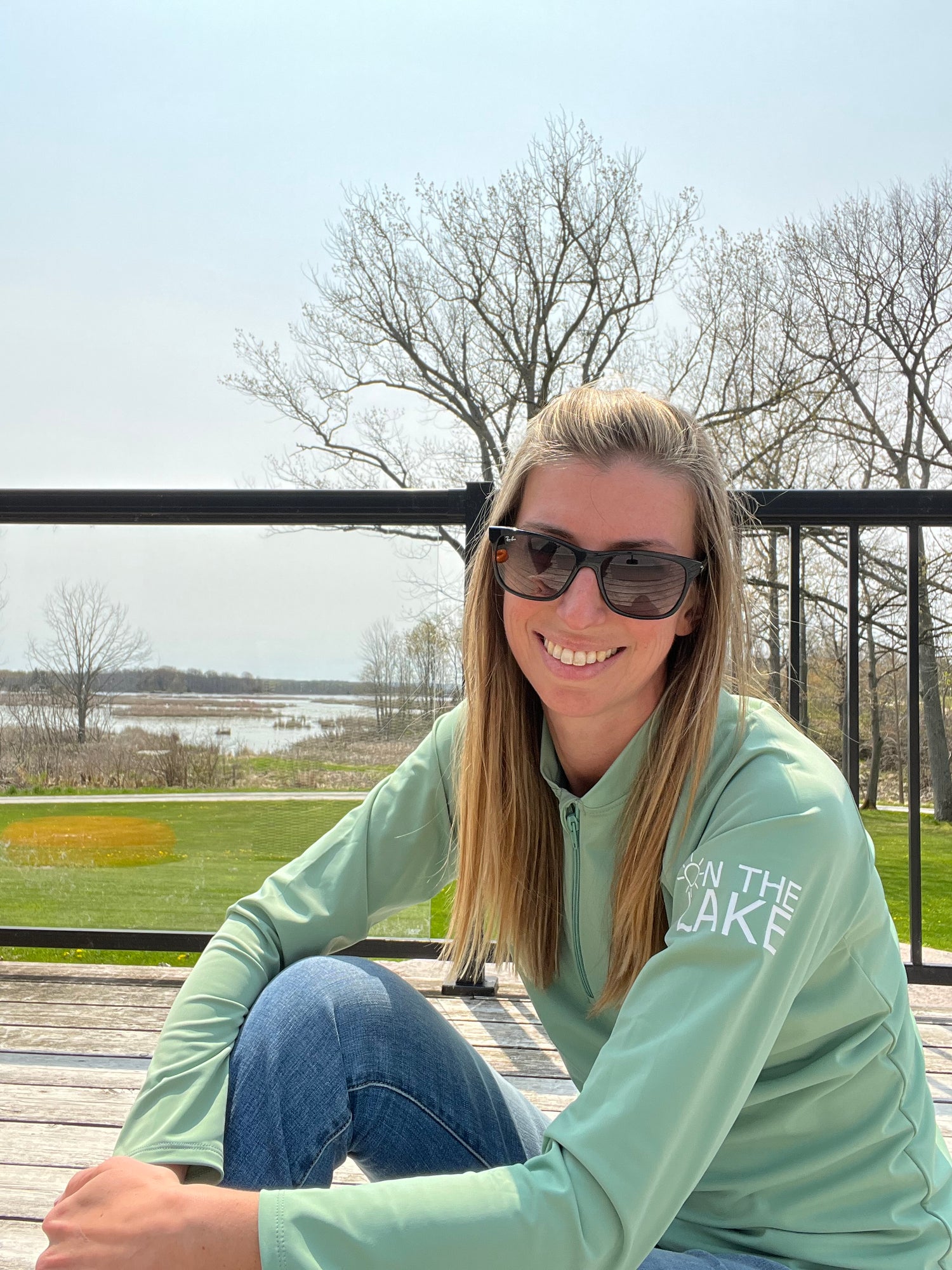 Jennifer Scobie
After growing up on the shores of some of Ontario's favourite lakes for summer exploration, Jen designed a Canadian-made sun and swim UPF 50+ rash guard to protect her kids and yours. She was also a 2022 Top 100 Semifinalist for Canada's Total Mom Pitch Presented by TD Canada.